Catching the Spring 'Bug'
After every winter, an odd set of symptoms torment our common working man: lack of concentration, light-headedness, absence from the office and a suspiciously frequent occurrence of a smile… Yes, a full blown spring is back, with its blossom-saturated air, sunshine and chirping birds! Granted, some countries have it easier with the weather than others (no one is pointing fingers, dear Holland!) but a spring attitude means a lot everywhere. No matter where you are, you can always take advantage of the local season's festivities, and boy, is there a great choice! This month, ELM has decided to take a closer look at some of the most interesting celebrations in springtime around the world to give you a spirit-boosting overview of events where everyone has the spring fever.
Baba Marta in Bulgaria
Bulgarians mark the beginning of spring in style. Baba Marta, or 'Grandma March' as the name suggests, takes place on the first of March and continues throughout the month. On this occasion Bulgarians exchange red and white threaded adornments known as martenitsi – symbolising purity and fertility – that are usually worn on wrists to bring good luck and prosperity. The Grandma March bracelets can vary in complexity and style, some contain additional accessories – a true feast for the eyes and a compelling challenge for every fashionista. If you find yourself in Bulgaria in March and don't want to stand out from the crowd, then fear not, for the Baba Marta tradition is very open; more often than not the red and white adornments are freely exchanged not only between the people but can be also seen decorating buildings and even pets… Traditionally martenitsi are taken off towards the end of March or when one spots the first signs of spring, whether it's a stork or the first blooms. They are then tied to a tree as a token for a fruitful season.
St Patrick's Day in Ireland
The 17th of March originally commemorates the work of Saint Patrick who turned Ireland to Christianity and banished all the snakes from the island. Whereas the second achievement could still be ample reason to mark this date in the secular society, nowadays it has become a more general celebration of Irish culture. The best part about it is that even though it's a public holiday in Ireland, it is widely practiced around the globe. No matter if you're in Russia or Japan, you will always find an Irish pub by following the sounds of Gaelic music or by joining a cheerful crowd wearing green garments. Of course, given the chance, one should always try and attend the elaborate St Patrick's Day celebrations in Ireland and the English speaking part of the world. There the multiday festivities include parades, concerts, open theatre productions and extensive 'sampling' of Irish beers. If Chicago city can dye its river green for this occasion, then you can definitely pin a shamrock to your pocket to manifest your Irishness for a day!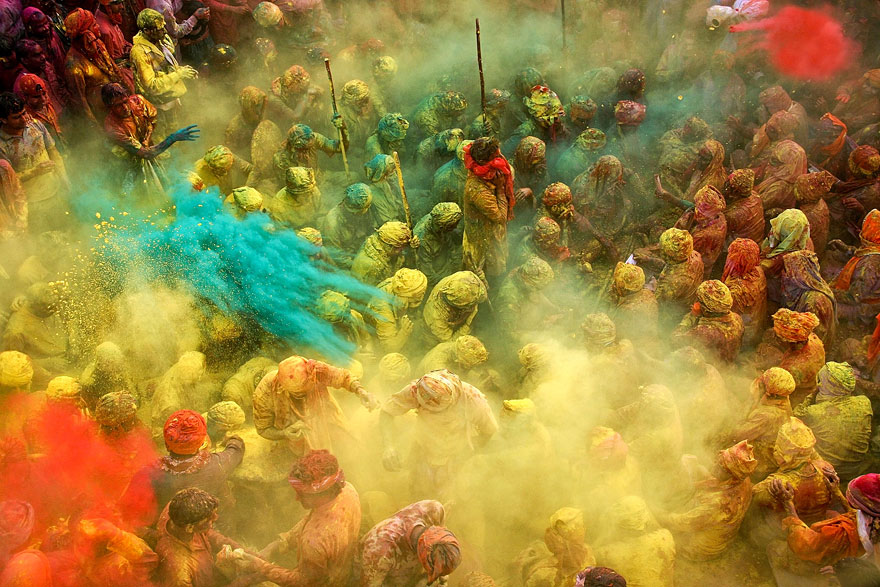 Holi festival in India
Holi is a true tribute to springtime in its most colourful sense. A two day celebration falls on the last full moon day at the end of February/start of March and signifies the conclusion of winter. On the eve of the festival old tree leaves are burnt in bonfires to make space for the new flowers and the greens. The fire also symbolises the burning of female demon Holika in Hindu mythology. Understandably there are as many variations of Holi festival rituals as there are different regions in India. However, the most common practice is the throwing of coloured powder and perfume at one another, which accounts for the gayety of the event. It's accompanied by live music, dance, food and consumption of bhang (a paste made from the cannabis plants). It is important to note that Holi festival is also a celebration of love and friendliness. The two days is a rare occasion to diminish all social stratifications and get smeared in colours from head to toe, no matter your age or gender.
Songkran festival in Thailand
After Holi it only makes sense to attend Songkran water festival in Thailand. Rest assured that the remains of the coloured powder behind your ears will be washed away as people use hoses, water pistols, balloons and plain buckets to 'refresh' passersby. The fact that it's the hottest time of the year in Thailand does help to explain this tradition; however, it originates from a religious practice to wash images and statues of Buddha as 13th of April marks Thai New Year. The ritual symbolises cleansing and a new start, and is considered good luck to sprinkle the effluent water from the various Buddhas onto one's shoulder. Obviously over the years Songkran festival has acquired a modern way of celebrating it which is more appealing both to the young Thai generation and tourists. The public water throwing usually goes along with beauty pageants and partying so it's a good opportunity to get clean and have fun.
Bulgaria, Ireland, India and Thailand are just a few country examples out of many but they send a clear message – there's more to spring festivities than munching chocolate eggs on Easter morning. So pack your bag with sunglasses and umbrella, and go outside to embrace the spring madness!
Veronika Norvaisaite – ELM team
© Expertise in Labour Mobility B.V. All rights reserved.