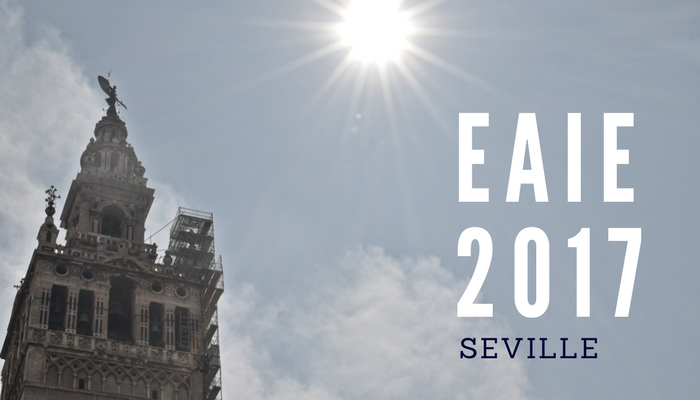 EAIE 2017 | Seville: A glimpse of our conference week
This year, the biggest conference in Europe for international educators, the EAIE, took place in Seville and hosted as many as 6000 delegates from 95 countries! It was, without doubt, a week full of thought-provoking sessions, wonderful encounters, great meetings and inspiration for our sector. Seville and EAIE, ¡nos gusta!
Tuesday 13/09
We kicked-off the conference with a workshop on 'Using big data for smarter marketing', presented by Tim Rogers from the American University of Paris, Thijs van Vugt from StudyPortals and Nannette Ripmeester.
Wednesday 13/09
On Wednesday morning, Sevi Christoforou co-presented a session on "Unlimited global employability: successful strategies to develop students' intercultural competencies". She pointed out the different uses and benefits of gamification within international Higher Education. Her presentation focused mainly on gamification and how once integrated into apps and SaaS, it can engage more students in training activities and support university staff in their efforts to boost their students' intercultural competence and employability. The session was chaired by Zoran Kondali from the Nova Scotia Community College in Canada. He and Kamilla Trubicki from the University of Applied Sciences Upper Austria provided an interesting overview of the programmes and activities in their institutions to support their student's intercultural competencies learning, both at home and abroad.
On the same day, Emma Cornelis presented two posters. In the morning session, Emma's poster presentation focused on 'Digitalising employability skills training', where participants had the chance to find out about a digital platform (CareerProfessor.works) that can support higher education institutions in training employability skills in a cost-effective and scalable way. The poster presentation in the afternoon demonstrated how gamification can be used in intercultural training activities. During the poster presentation 'Press play: gamification in intercultural skills development', Emma explained how bringing games into skills training is the key to hold on to the decreasing attention span of current-day students, who spend most of their time on their phones anyway.
The Marketing & Recruitment speakers dinner in the evening was a good wrap-up of this second day at the EAIE and a great chance to meet fellow colleagues and speakers in a more relaxing setting. We cannot thank the M&R community enough for the invitation and for bringing everyone together.
Thursday 15/09
Thursday morning started with a presentation on 'University Brand Management: satisfied alumni as a marketing tool'. Together with Sanna Heikkinen from the University of Oulu, Sevi Christoforou looked into the importance of alumni satisfaction in relation to university marketing strategies. The session, chaired by Nannette Ripmeester, showed how to turn alumni into university brand ambassadors. Sanna provided the audience with a comprehensive overview of the alumni ambassador program at the University of Oulu, giving practical examples of how to engage your alumni and explaining how the ongoing circle of that engagement flows through time and between offices. The session underlined the importance of alumni relationship building based on support and exchange, leveraging available digital tools for enhancing engagement and outreach. Alumni management is a never-ending circle to Attract, Integrate, Retain (or Recommend) students & alumni – the AIR circle in Higher Education.
After the session and between meetings at the exhibition hall and at our booth, we attended the i-graduate network reception offering a nice chance to discuss the International Student Barometer (ISB) with colleagues and clients.
During the evening, we were proud to sponsor the Orange Reception, organised by Nuffic with the support of the Dutch Embassy in Spain and a number of other Dutch HigherEd partners (The Student Hotel, StudyPortals, Housing Anywhere and Dhenim).
Friday 15/09
The last day of the conference was devoted to some last meetings at our booth. But the Closing Plenary with the powerful speech of Taiye Selasi was probably the highlight. The 'multi-local' author urged the audience to look beyond borders and focus on the experiences that make us who we are "Don't ask where I'm from, ask where I'm local". Her final remark on the importance of international education and its power to change the world granted her a standing ovation.
It was again an inspiring conference! Looking forward to meeting everyone again in Geneva #EAIE2018 – ¡Hasta pronto!